Digital Air Permeability Tester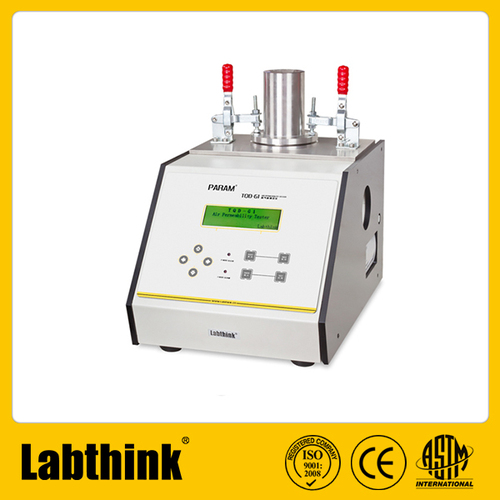 Digital Air Permeability Tester
Price And Quantity
Set/Sets

5000.00 - 50000.00 USD ($)
Product Specifications
Product Description
Digital Air Permeability Tester

TQD-G1 Digital Air Permeability Tester for Fabrics (ASTM D737) is work wise designed for the resolve of air permeability of beautifying ingredients utilized in cars, e.g. expanded plastics, polyurethane, PVC, textiles, leather, nonwovens and other resources. Through the examination, physical features of materials could be regulated to meet applied application necessities.

Principle :


Method A
Offering a continuous air flux going over the sample vertically, the air penetrability could be gotten by calculating the pressure alteration.

Method B
Offering the continuous pressure change between two sides of the sample, the air penetrability could be got by calculating the air flux finished exact area in the sure time.

Standards :

TQD-G1 air permeability tester imitates to the manifold national and international parameters: ISO 4638, ISO 9237, ISO 5636, , GB/T 5453, GB/T 13764, ASTM D737, GB/T 10655GB/T 4689.22, TAPPI T460, JIS P8117

Digital Fabric Air Permeability Tester ASTM D737 is appropriate to the resolve of:

Basic Applications

Decorating Articles of Cars
Examine the air permeability of car adorning resources, e.g. leather, textiles, polyurethane, PVC and nonwovens materials

Elastic and Porous Polymer Materials
Test the air permeability of flexible and absorbent polymer resources, e.g. sponges

Textiles
Test the air permeability of fabrics, e.g. nonwovens and cloth

Leather
Test the air penetrability of leather
Expert Air Permeability Tester of Material Fabrics is intended per the normal necessities of global automakers.
2 test styles are obtainable for clienteles: fix pressure change to fix flux and test flux to test weight difference
High precision sensors of electronic airflow and air pressure to ensure the accuracy of test data
The instrument is regulated by micro-computer, with PVC operation panel and LCD menu interface which is easier for clienteles to function or opinion test data
Armed with micro-printer and normal RS232 port for convenient joining with PC and data transmission

Standard Configurations

Micro-printer, Grips, Mainframe, Vacuum Pump from America and Round Sample Cutter

Optional Parts

Communication Cable, Professional Software, and Customized Grips

Note

The gas supply haven of the tool is 8 mm PU tubing.

Technical Specifications


Specifications

TQD-G1

Test Range of Pressure

0 ~ 1000 Pa

Test Range of Flux

0 ~ 30 L/min

Specimen Size

Method A: 52 mm x 52 mm
Method B:12 mm x D(diameter) 71 mm

Port Size

8 mm PU Tubing

Instrument Dimension

502 mm (L) x 334 mm (W) x 298 mm (H)

Power Supply

AC 220V 50Hz

Net Weight

27 kg
Trade Information
7 Days

Standard Veneer Case