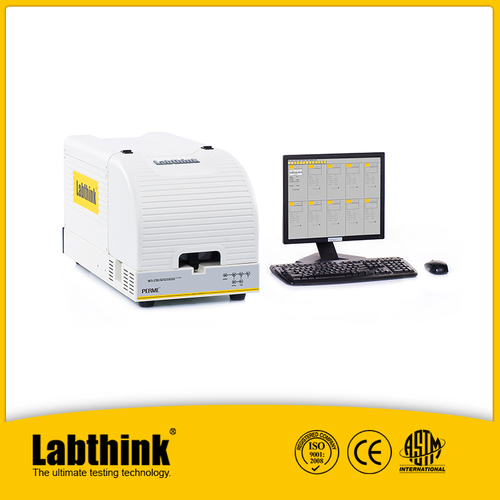 Product Description
W3/230 Water Permeability Apparatus utilizes the infrared sensor method to test the WVTR of flexible films, sheets, foils and packages. It can test 3 specimens with independent results.
Principle:
Infrared method is used by W3/230 Water Vapor Transmission Rate Test System: The test specimen is mounted in the diffusion cell, which is subsequently divided into a dry chamber and a controlled-humidity chamber. The dry side of the specimen is swept by a flow of dry nitrogen, and the water vapor permeating through the specimen from the controlled-humidity chamber is carried by dry nitrogen to the infrared sensor where proportion electrical signals will be generated. The water vapor transmission rate is obtained by analyzing and calculating the electrical signals. For package samples, dry nitrogen flows inside the package, and moisturized nitrogen flows outside.
Standards:
ISO 15106-2, ASTM F1249, TAPPI T557, JIS K7129
Features:
Based on the infrared sensor method.
Three distinct or equivalent specimens can be tested individually with independent test results at one operation.
Wide range and high-precision of temperature and humidity control to support various combinations of non-standard test conditions.
Standard, proportional, and continuous testing modes facilitate to test different materials with distinct water vapor permeability.
Convenient fast-access calibration ports for temperature and humidity.
Embedded computer control system provides safer and more reliable data management as well as test operation.
Three diffusion cells are integrated in one instrument with lower space occupancy rate and higher test efficiency
Intelligent designs for test result evaluation, sensor calibration reminding, tracing or managing operation record provide a safe and easy operation environment.
Detailed information for each test can be saved through embedded database storage technology, and users could view historical test data in various patterns.
Specifications:
Specifications

Film Test

Package Test (Optional)

Test Range

0.01 ~ 40 g/m2·24h (Standard)

0.0001 ~ 0.2 g/pkg·d

0.1 ~ 1000 g/m2·24h (Optional)

Specimen Size

108 mm x 108 mm

Temperature control for one package test: < Ф180 mm, Height < 380 mm

Temperature control for 3 package test: < Ф100 mm, Height < 380 mm

No size limitation for tests without temperature control device

Number of Specimen

3 with independent test results

Specimen Thickness

≤3 mm

/

Test Area

50 cm2

/

Temperature Range

15°C ~ 55°C (standard)

Temperature Accuracy

±0.1°C (standard)

Humidity Range

0%RH, 35%RH ~ 90%RH, 100%RH

Humidity Accuracy

±1%RH

Carrier Gas

99.999% high-purified nitrogen (outside of supply scope)

Flow of Carrier Gas

0 ~ 200 mL/min

Pressure of Carrier Gas

0.28 MPa/40.6 psi

Port Size

1/8 inch copper tubing

Instrument Dimension

690 mm (L) x 350 mm (W) x 360 mm (H)

Power Supply

AC (85 ~ 264)V (47 ~ 63)Hz

Net Weight

70 kg
Applications:
1. Films
2. Sheeting
3. Paper and Paper Board
4. Packages
5. Package Caps
6. LCD Monitor Films
7. Solar Back-Sheets
8. Plastic Packages for Drugs and Health Care Products
9. Plastic Pipes
10. Blister Packs
11. Aseptic Wound Protection Films and Medical Plasters
12. Fuel Tanks of Cars
13. Battery Plastic Shells
14. Paper Cups and Bowls