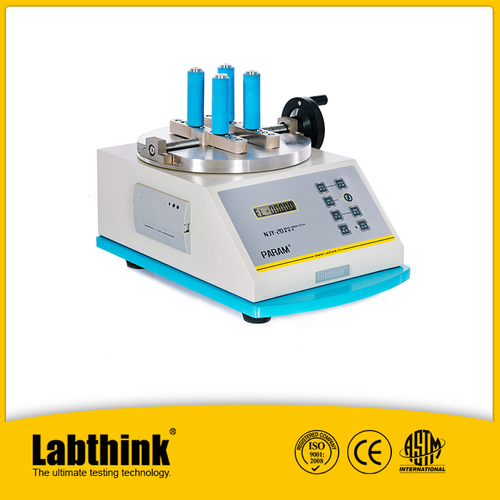 Product Description
NJY-20 Plastic Bottle Cap Torque Meter is an manual torque tester to measure open force and closure force of the caps of bottles, suction and flexible tube packages. The open and lock forces of bottle caps are important online and offline production parameters. They can influence the transportation and consumption of products.
Standards:
ASTM D2063, ASTM D3198, ASTM D3474
Features:
2 test modes for open force and lock force.
Automatic retaining of peak value and recording the test results precisely.
Standard testing units which is convenient for data reference and comparison.
Intelligent designs of overload protection, automatic zeroing and error alert for safe test operation.
Applications:
1. Bottle Package: Open and lock force test of the bottle caps for bottled packages for food, pharmaceuticals, e.g. beverage or tablet bottles
2. Flexible Tube Package: Open and lock force test of flexible tube packages for food, pharmaceuticals and cosmetics, e.g. eye-drop, hand cream and shoe polish, etc.
3. Screws: Open and lock force test of the screws
4. Vacuum Flask and Vacuum Cup: Open and lock force test of the caps of vacuum flasks and vacuum cups
Specifications:
Specifications

NJY-20


Plastic Bottle Cap Torque Meter

Load Cell Capacity

20 Nm (Standard)

40 Nm (Optional)

50 Nm (Optional)

Accuracy

1% FS

Resolution

0.001Nm

Clamp Range

DIA 5 mm ~ 170 mm (Diameter)

Statistical Analysis Allowance

1~9

If used with professional software, there will be no quantity limitation. Furthermore multi-units and statistical data analysis will be available.

Instrument Dimension

350 mm (L) x 240 mm (W) x 140 mm (H)

Power Supply

AC 220V 50Hz

Net Weight

19 kg