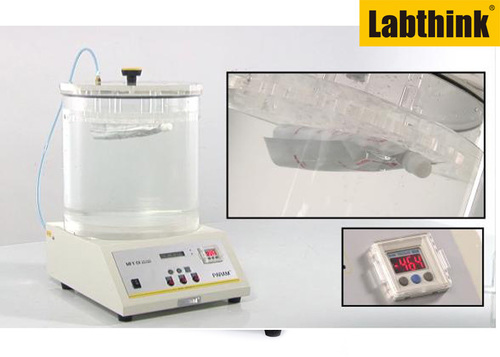 Product Description
plastic bottle and vacuum packaging leak testing machine
MFY-01 Leak Testing Machine is designed for gross leak test of packages for food, drugs, medical instruments, daily chemical products, cars, electronic components, stationeries and other industrial products.
Firstly submerge the specimen in the water within the vacuum chamber, and then evacuate the vacuum chamber to form differential pressure between the inside and outside of specimen. The leakage property could be obtained by observing the steady progression of bubbles from the specimen and how the specimen expands and restores to its original shape after vacuum release.
The instrument utilizes the digital preset design of vacuum degree and vacuum retention time to ensure the accuracy of test data.
Top quality parts and components made by world famous brands are used to ensure reliable overall product performance.
Specimens could be tested in the preset vacuum condition by automatic compensation of constant pressure.
Professional software supports automatic back flushing and test termination to provide a safe test environment.
Specifications

MFY-01

Vacuum Degree

0 ~ -90 KPa

Accuracy

1% FS

Vacuum Chamber Effective Sizes

DIA 270 mm x 210 mm (H) (standard)

DIA 360 mm x 585 mm (H) (optional)

DIA 460 mm x 330 mm (H) (optional)

Note: customization is available for other sizes

Gas Supply Pressure

0.7 MPa (outside of supply scope)

Port Size

DIA 6 mm PU Tubing

Instrument Dimension

300 mm (L) x 380 mm (W) x 450 mm (H)