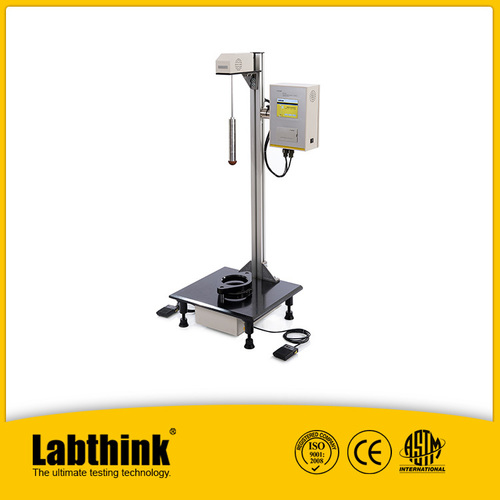 Labthink Impact Test device
Product Code : FDI-01
2000.00 - 20000.00 USD ($)
Price And Quantity
Minimum Order Quantity

:

1
Unit of Measure

:

Set/Sets
Price Range

:

2000.00 - 20000.00 USD ($)
Product Specifications
Number of Specimens

:

1
Usage

:

impact testing equipment
Capacity

:

500g
Machine Weight

:

70kg
Test Stroke

:

660mm
Product Description
FDI-01 Labthink Impact Test device is based on free falling dart method to test impact resistance of packaging materials such as plastic films, laminates.
It conforms to ASTM D1709, ISO 7765-1-1988, JIS K7124-1, GB/T 9639.1-2008
The test can be perfomanced as follows:
Before starting the test, choose test method, and estimate an initial mass and Δm. Start the test. If the first specimen fails, decrease the mass of the falling dart by Δm. If the first specimen is not a failure, increase the mass of the falling dart by Δm. Continue the test according to this rule. In brief, increase or decrease by Δm according to whether the former specimen is a failure or not. After 20 specimens, calculate the total number of failed specimens N. If N equals to 10, the test is over. If N is less than 10, add specimens and continue to test until N equals to 10. If N is greater than 10, add specimen and continue the test until the number of non-failure specimens reaches 10. Then the tester calculates the test results automatically according to specific formulas.
Features:
Windows menu interface and touch screen
2 test methods of A & B
Pneumatic clamping
2 starting modes of manual and pedal switch
Professional software supports
RS232