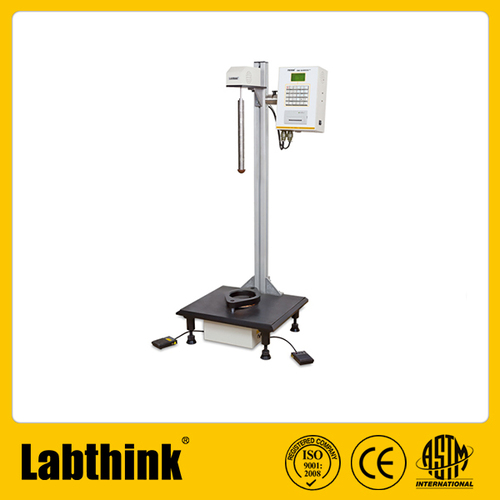 Product Description
Drop Dart Impact Tester Supplers is used to determine the impact resistance of materials including plastic films, paper, foils, etc. by free falling dart or ball method according to ASTM F1709 (method A and method B). .
Drop Dart Impact Tester Supplers conforms to the following standards:

ASTM D1709, JIS K7124-1-1999, GB/T 9639.1-2008,ISO 7655-1-1988
Application:
Drop Dart Impact Tester Supplers is designed to test the following materials
1. Films
2. Aluminum Foil and Aluminum Plastic Composite Films
3. Paper and Paper Board
4. Falling Ball Test
5. Shoulder Piece Test
Features:
Windows visual operating interface and TFT touch screen are convenient for settings of test parameters.

2 test methods including Test Method A and Test Method B and automatic judgment of test status.

Electromagnetic suspension of dart release mechanism effectively reduces the errors caused by manual operation.

Pneumatic clamping, 2 starting modes of manual and pedal switch and built-in observation light are convenient to the user's operation.

Professional software of drop dart impact tester supports multi-unit result display and printing functions which is convenient for users to review test data.
Specification:
Items

BMC-B1

Test Range

Method A: 50~2000 g
Method B: 300~2000 g

Test Accuracy

0.1 g (0.1 J)

Energy Analysis Accuracy

±0.5%

Inclination Angle
Monitoring Range

-10°~10°

Power Supply

AC 110 V 60 Hz
About Labthink:
Our Customer:
Labthink instruments have been widely used and recognized by more than 6,000 scientific institutional laboratories, inspection organizations, and universities and corporate quality control departments.
Labthink is dedicated to providing professional consulting, testing instruments, support services, and quality assurance solutions for packaging in various fields.